Hello and welcome to my web site! Here you will find a listing of my books, a synopsis of each, and reviews which should aid you in selecting which you will want to read first! Also you will notice there are direct links to the sites where you can actually part with some of your hard-earned money to buy any or all of them! You can also learn more than you probably want to know about me, but there it is!
Have a look about and enjoy! Should you feel moved to, let me know what you think of the site, the books, or maritime history. Just click "Contact Bill White," right below that handsome chap there on the left! Thanks for stopping by. MORE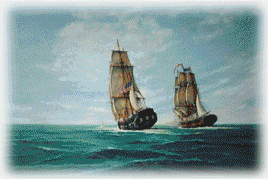 Cover art by noted marine artist Paul Garnett

"...our flag was still there"
When Fortune Frowns
In Pursuit of Glory
The Greater the Honor

The 1812 Trilogy:
A Press of Canvas
A Fine Tops'l Breeze
The Evening Gun

My new book, "...our flag was still there" is now available! You can order it at www.seahistory.org or on Amazon.com. We are sure you will find it is worth the wait!
Upcoming Speaking Engagements & Book Signings

23 April 2013, Revolution Roundtable, Lecture and booksigning, Iron Horse Restaurant, Westwood, NJ. 18:30.

9 June 2013, 1:00 PM, Monmouth County Library Manalapan (125 Symmes Rd). Program begins at 1 PM with introductory remarks on the War of 1812 by the Commanding Officer, Naval Station Earle. Following that, I will be providing the history and lore of our National Anthem, The Star Spangled Banner, and its composer, Francis Scott Key. The song will then be performed by a brass band and sung by a local soprano. Following that, I will be available to discuss the War, offer some of books for sale, and sign them if desired. It should be an entertaining and informative afternoon. Hope to see you there!

I will keep this section updated and advise of any changes through Twitter. You can follow me @1812war.

Remember, it's the 1812 bicentennial year so there will be a variety of events celebrating the "Second War of Independence". The festivities began in April in New Orleans, LA, and now the ships will be heading to Boston for 4th of July, New London for weekend of 7th of July and then north to Canada and the Great Lakes. Check out the official schedule at www.ourflagwasstillthere.org and be sure to check out my Op Sail Pictures already posted.