A Press of Canvas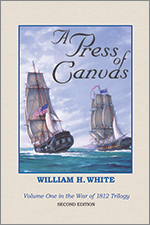 Isaac Biggs of Marblehead, Massachusetts, sails from Boston as captain of the foretop aboard the bark Anne, bound for St. Barts in the West Indies in the fall of 1810. When the Anne is stopped by a British Royal Navy frigate, Isaac and several shipmates are forcibly pressed into service aboard HMS Orpheus, actively engaged in England's long-running war with France.
The young Isaac faces the harsh life of a Royal Navy seaman and a harrowing war at sea. His new life is hard, with strange rules, floggings, and new dangers. Then the United States declares war on England and Isaac finds himself in an untenable position, facing the possibility of fighting his own countrymen.
A Press of Canvas - 2nd edition - paperback and Kindle versions now available!


Reviews
"The Age of Fighting Sail has been well portrayed by C.S. Forester, Patrick O'Brian and their followers. But all of these writers saw the world from the quarterdeck. Now comes William H. White with A Press of Canvas to present the same conflicts on the same ships from the viewpoint of a fo'c'sle hand. It is a worthy effort, well executed, and thoroughly engaging, and all of us who love the subject matter are in his debt."
Donald Petrie
Author: "The Prize Game, Lawful Looting on the High Seas in the Days of Fighting Sail"
Naval Insititute Press 1999
---
"A great read... a very engaging story with believable, honest characters... taught me a lot about this period of history... just fabulous!"
John Woolridge, Managing Editor
Motorboating and Sailing
---
"The book disappears - you find yourself right there watching the action unfold."
---