...a final word - or two...
A message from WILLIAM H. WHITE to his readers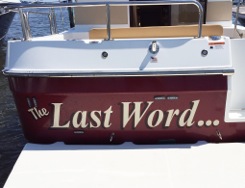 It was perhaps eight or ten years ago — maybe right after In Pursuit of Glory hit the stores — that someone at a lecture or book signing asked if this was the last book or would there be more coming along. I was shocked! The last book? Oh my! Of course not. I responded that I had already commenced work on a new story, this one a bit out of my usual realm, being on the Royal Navy as opposed to the tales of the fledgling U.S. Navy I had been producing. I added a quip, saying, "I still have words I haven't used yet. So, until I run out of words, the books will keep on comin'!" And so they did: When Fortune Frowns was followed by a non-fiction tome commissioned by the US Navy and the National Maritime Historical Society, a short history of the War of 1812 and a listing of events planned to commemorate the bicentennial of that important but little known "bump" in the road of American freedom.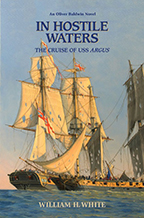 And I still had more words left, so a sequel to Fortune appeared, dealing with a Royal Navy event that took place near my winter home on Grand Cayman Island. It was called Gun Bay, and chronicled the infamous "Wreck of the Ten Sail" in 1794. It was quite well received, especially on the Island, but I needed to get back to the American Navy and the maritime war I knew well. I quickly began work on another War of 1812 story in which I intended to bring my fictitious American naval officer character together with my fictitious British one. That became In Hostile Waters, the Cruise of USS Argus. You can read about it — or even order it through Amazon — on another page of this site.
And then the unthinkable happened: I realized I really had run out of words! I was done. In addition to "using up all my words," I had pretty well exhausted the War of 1812 and the Barbary Wars. Unlike the British Age of Sail, the American Age of Sail was short lived; by the end of the War of 1812, it was almost over; only the Civil War remained and the ships that took part in that conflict were powered by both sail and steam. Recognizing that steam powered vessels are not nearly as romantic as wind powered ones, I have decided that enough is enough and I will not be refilling my pen. I ran out of words about the same time I ran out of stories; how's that for timing!
A final word to my loyal readers: Thank you for your support, for reading my stories, and for writing (mostly) positive reviews of them. Obviously, without you, readers, I would have stopped long ago!
In Hostile Waters can be purchased in Kindle or paperback editions from

.